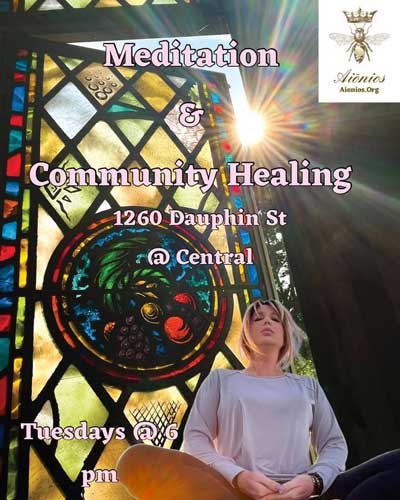 Meditation & Community Healing
Please join us this upcoming Tuesday and every following Tuesday for an in person experience of healing and restoration through the power of meditation.
Community healing through self healing!
We start the evening with a powerful meditation followed by what we call "Community Unity". A lesson each week on tool sets of a practical approach to self healing and in turn, community healing.
We focus on areas of repressed trauma, daily stress reduction, restoration of relationships (marriage, friendships and family), how to approach unhealthy working environments, what to do when living in "crisis mode" and MANY more practical, everyday issues that affect us all.
You can find out more about what we offer and many other programs including our weekly sound bowl healing services on Thursday evenings at Aionios.org.
Come join us in the beautiful Central Sanctuary each week and be bathed in the warm embrace of the historic stained glass windows as we go into a peaceful, relaxing and restorative meditation allowing the cares of the week and of life to melt away and unlock the power and potential of YOUR legacy!
For any inquiries, feel free to reach out by email at:
(This is a non religious service and is not affiliated with any religion organized or otherwise – this is strictly a spiritual experience of mindfulness and wellbeing through holistic and therapeutic offerings)
---